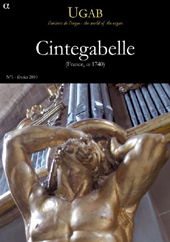 UGAB - THE WORLD OF THE ORGAN VOL. 1 - CINTEGABELLE (FRANCE 1742) - YVES RECHSTEINER (ORGAN) - HENRI-CHARLES CAGET (PERCUSSION) - HYBRID SACD -

Alpha 650
This is the first volume of what promises to be one of the most instructive, exciting and musically accomplished series of recordings presenting an overview of the world of the organ, both in a locations aspect and a historical perspective. For one thing it is on the top quality label Alpha which right away means that every aspect of the production, be it liner notes, cover art, recording quality, etc...is always top priority. For starters, the liner notes to this recording are so extensive that they start with a Foreword by the production director Jean-Paul Combet in which he explains the raison d'être behind this massive undertaking. As a matter of fact, the reason why this recording is presented in an amaray-style packaging is because the notes grew to become a book. Here are but a few lines of what he says:
Ugab... a strange name for a new series of recordings. The word ugab, found in the Bible, refers to one of the oldest instruments used by man for music making: the organ. - An organ is beautiful, even when it is silent. It is architecture within architecture, occupying a space that is never neutral. - You will discover each instrument in its environment, visually, through the many photographs included, which we hope will provide matter to dream on. - Particular care has been taken with sound reproduction; the voice of an organ has the specifity of unfolding within an edifice and taking up all the space, in close harmony with the architecture around it, and we have tried to take that into account. - What we are interested in is the organ as the work of craftsmen, who used their patience, love and ingenuity to develop the instrument over the years, as a 'machine' and as a work of art. - An organ, like a human being, has its own personality.
The magnificent organ used in this recording was built in 1741/42 and has been in the church of the Nativity of the Blessed Virgin Mary in Cintegabelle since 1819. It has undergone many modifications and overhauls since that time, but was actually restored to its original state in 1989. The music played in this recording is a set of transcriptions for organ by the organist himself Yves Rechsteiner of airs and dances from operas by Jean-Philippe Rameau (1683-1764). The style of the music and the character of the organ could not be better matched. The theatrical nature of the music presents the organ in a secular role, and all the versatile stops on this instrument convey the music's intent very clearly. You won't find ponderous preludes or long intricate fugues here, but music conveying life in all of its forms, including storms, bird calls and drum rolls. From piece to piece is like moving from pleasure to pleasure. Here is a listing of the individual tracks on the disc.

1 - Les Indes Galantes, Prologue: Ouverture
2 - Platée, Acte III, Scène 6: Musette en Quatuor
3 - Zoroastre, Acte II: Menuet en Trio – Second Menuet en Duo
4 - Platée, Acte I, Scène 6: Tambourin
5 - Platée, Acte III, Scène 8: Choeur en rondeau
6 - Zoroastre, Acte I: Air dans le goût de la romance
7 - Hippolyte et Aricie, Acte III: Tambourins
8 - Les Indes Galantes, Quatrième Entrée: Danse des Sauvages, dans le goût du concerto
9 - Les Boréades, Acte IV, Scène 4: Entrée
10 - Platée, Acte II, Scène 5: Menuet dans le goût de la vièle
11 - Les Indes Galantes, Troisième Entrée: Air vif pour Zéphir et les Fleurs
12 - Les Indes Galantes, Troisième Entrée: Tendre Amour, choeur de voix humaines
13 - Dardanus, Acte III, Scène 3: Rigaudon
14 - Dardanus, Acte III, Scène 1: Prélude
15 - Hippolyte et Aricie, Acte III, Scène 1: Fuguette
16 - Hippolyte et Aricie, Acte I, Scène 4: Tempête
17 - Castor et Pollux, Acte I, Scène 3: Air "Tristes apprêts"
18 - Zoroastre, Acte I: Sarabande en trio
19 - Dardanus, Prologue: Air tendre sur les flûtes
20 - Les Fêtes d'Hébé, Troisième Entrée, Scène 7: Tambourin en rondeau – Duo
21 - Les Indes Galantes, Troisième Entrée: Gavottes
22 - Les Indes Galantes, Deuxième Entrée: Tierce en taille – Air en récit – Trio – Duo
23 - Les Indes Galantes, Quatrième Entrée: Chaconne

The sound of the organ, from its bright trumpet stops and powerful reeds to its beautiful and mellow Voix Humaine, is superb. The recording quality is flawless. The liner notes are enlightening and just full of historical facts and actual musical examples of the music at hand, and the photographs of the organ and the church are stunning. Everytime I hear a recording on the label Alpha I am struck by its beauty, and this time I am simply stunned and amazed by what I hear. This CD is not only for organ enthusiasts and musicians, it is a historical and musical document to be enjoyed by everyone who cares about the higher achievements of humanity. I can't wait to see what they have in store for us over the following volumes.

Jean-Yves Duperron